Garage Door Spring Repair And Replacement in Simcoe County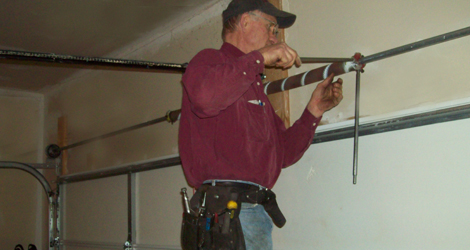 At Simcoe Garage Doors, our licensed and insured technicians can adjust, install or replace garage door springs efficiently. Garage door springs are an essential part of a door and they work under a lot of pressure. It is advisable to visually inspect the springs periodically to catch any potential signs of wear and tear. If you sense something wrong with the springs, just give us a call. Our technicians will come to inspect the springs and other garage door parts and fix any issue in a timely and professional manner.
Garage door springs support the heavy weight of the door and a broken spring can cause extreme damage to your property. Our garage door experts in Simcoe County are available 24/7 to help prevent your overhead door issues. We have in-depth knowledge about springs and know how to replace them safely.
Common Garage Door Spring Repairs
Some of the most common problems we troubleshoot include:
Broken Torsion Springs
Broken Extension Springs
Replacement of Extension Spring Safely
Complete Spring System Replacement
Broken Spring Cables
Spring Balancing
Why Is It Important to Seek Professional Help?
To replace garage door springs, you need to have a lot of skills and proper tools. So it is not at all a DIY thing. You need experienced professionals to get the job done right. Our professionals have the right knowledge and tools required to replace the springs timely and safely. With years of experience under our belts, we promise to deliver you high-quality solutions at affordable prices.
At Simcoe Garage Doors, our professionals have the expertise and techniques to safely replace or adjust the springs. When you choose us, rest assured, your overhead door and property is in safe hands. We aim to deliver 100% customer satisfaction to our clients. We leave no stone unturned when it comes to your safety. If you have any questions regarding the process, feel free to call us.
We Are Your Local Spring Replacement Expert. Call TODAY To Get More Info.